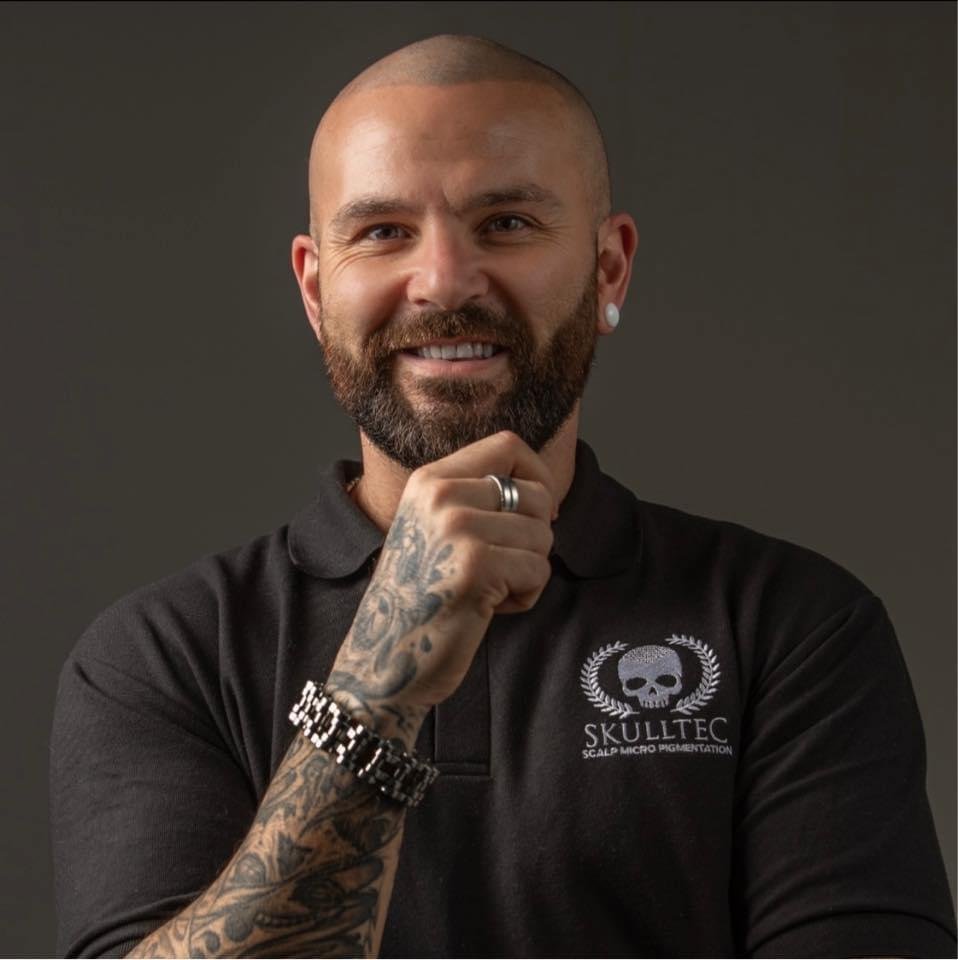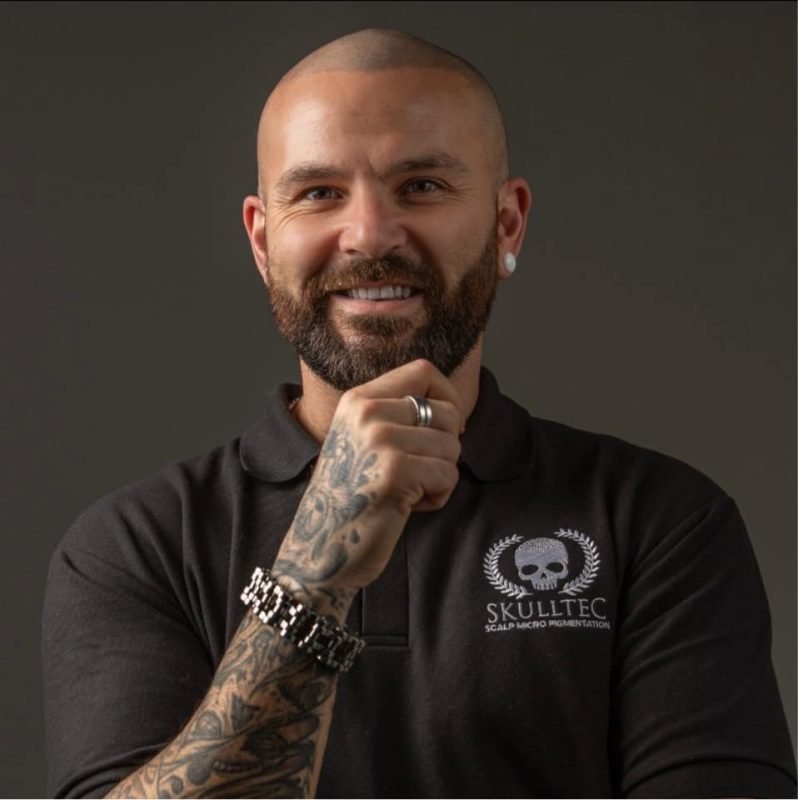 Meet Barry Tunstead
---
Multi-award-winning artist Barry Tunstead has become one of the most sought-after scalp micropigmentation technicians in the UK.  Having experienced his own personal struggle with hair loss Barry founded Skulltec Scalp Micro Pigmentation Ltd out of a belief in and commitment to the art and the practice.  His objective was simple. Combine his considerable tattoo knowledge and experience with the gratifying work of helping others through their own hair loss journey with a nonsurgical and non-invasive solution.  Focussed on these two aims, Barry successfully established a modern, state-of-the-art hair loss clinic.  The vibe is edgy and laid back, but the work is serious, and results based.
Barry prides himself in his work and reputation.  His dedication to his art and his brand is what have fuelled the rapid upward trajectory of Sculltec, where the skill and expertise is second to none.  Barry's investment is far more than business based. It is rooted in a passion for helping clients just as he was once, and in the continuous growth of the industry through leadership and training

We pride ourselves on our hard earned reputation. Check out our ever growing list of list of phenomenal feedback from clients all over the globe.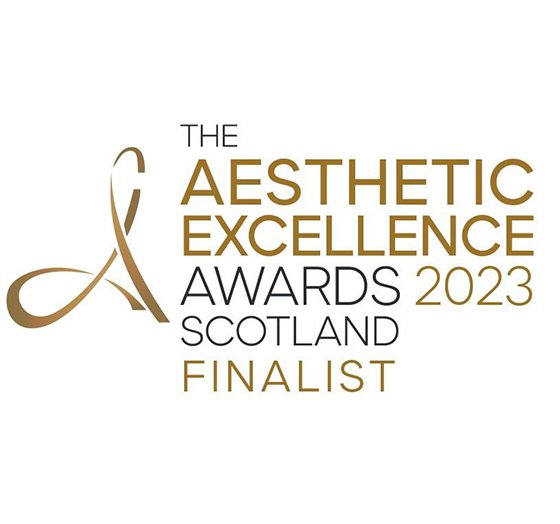 In 2023 Skulltec received its highest accolade to date, winning the award of Best Hair Restoration Clinic in the United Kingdom from the Aesthetic Excellence Awards 2023.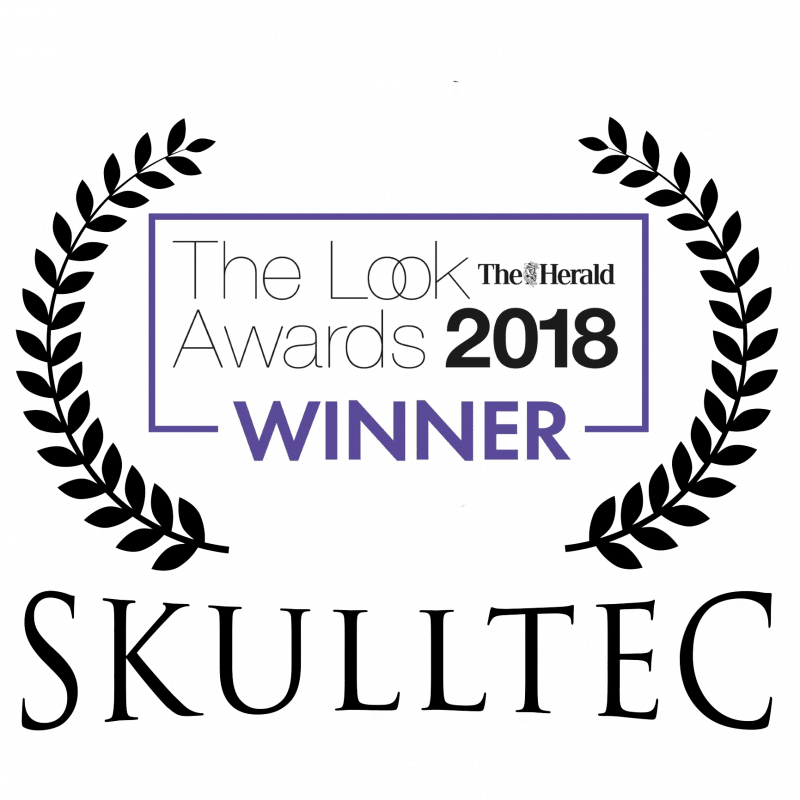 In 2018 Barry was awarded the Innovation and Technology Award hosted by 'The Herald' at 'The Look Awards'.  He later took 2nd place in the One to Watch category and was a finalist for 'Best Cosmetic Practitioner'.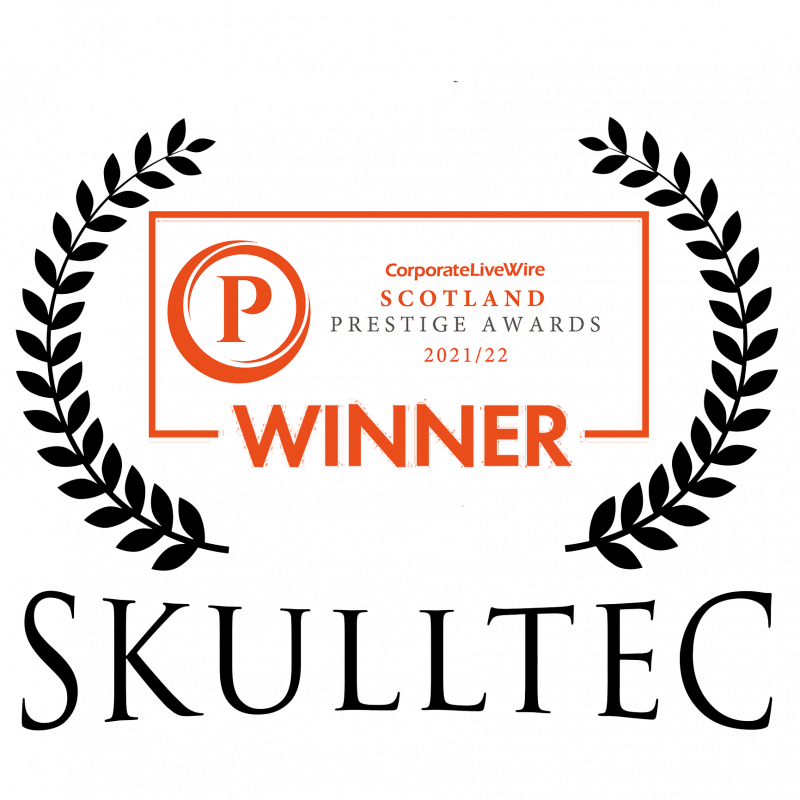 Barry's most recent award was with the Scottish Prestige awards hosted by Livewire. He won best SMP artist and SMP trainer 2021. That's his 3rd major award in as many years.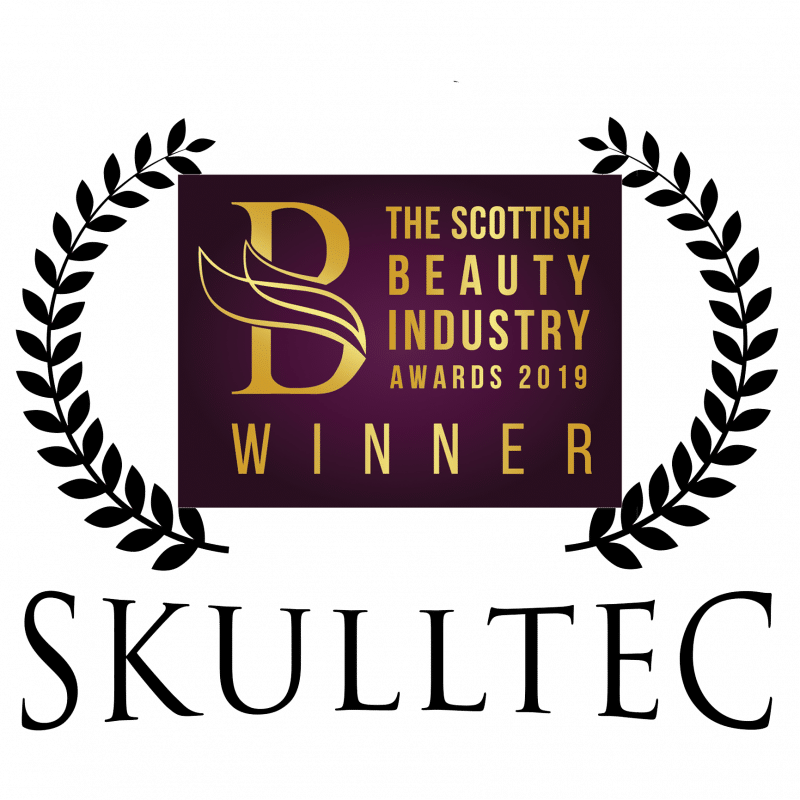 Barry's hard work and dedication yielded Skulltec the 'Best Hair Loss Clinic' in Scotland recognition by the Scottish Hair and Beauty Awards (SHABA). Barry is also a finalist in the 2020-21 'Best Cosmetic Practitioner' and 'Best Training School' SHABA awards, which will be judged and held later due to Covid restrictions.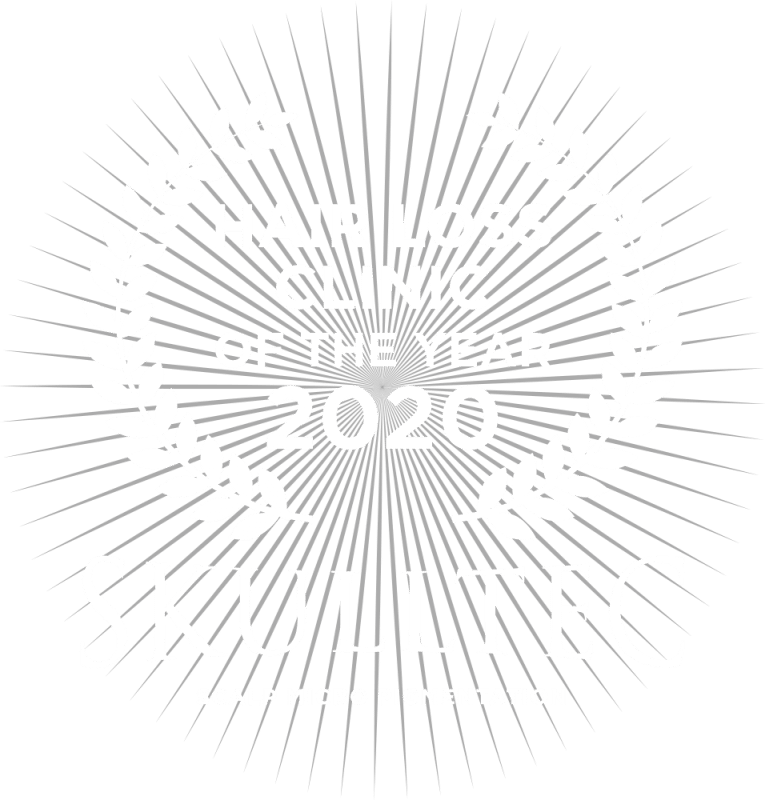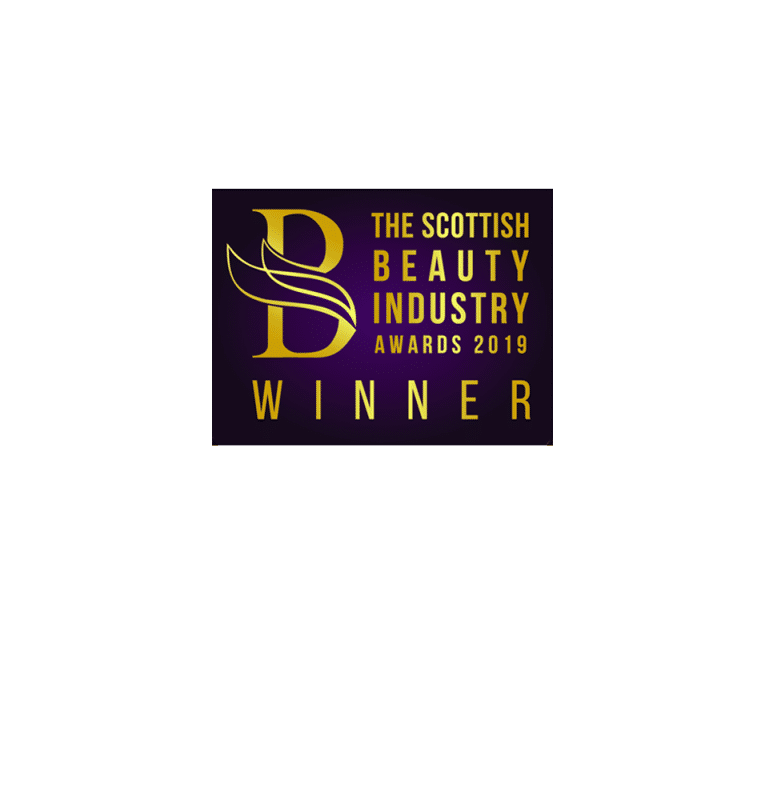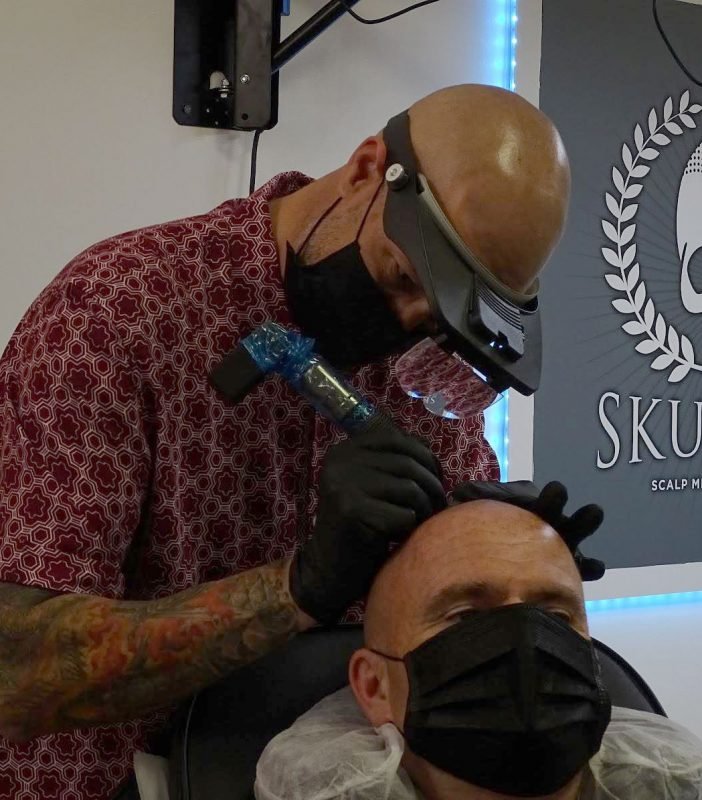 Meet Quinton Gordon
---
Quinton Gordon is artist-in-chief at Skulltec's Exeter clinic, offering the transformative hairline we have become best known for. Friends since childhood, Quinton and Barry grew up together and found yet one more thing in common between them….hair loss!
The life changing experience of scalp micropigmentation led Barrie pursue training, becoming a practitioner first. Soon after, Quinton followed suit and together the duo established Skulltec. Now with two successful locations, Skulltec is Southwest England's most trusted scalp micropigmentation clinic, with a rapidly growing client base.
Quinton is passionate about his art and his ability to help others regain confidence like he did after his own treatments. Well aware of the myriad of other hair loss treatments and their efficacy, Quinton considers himself incredibly fortunate to have joined this industry that is, at last, providing practical and long lasting solutions for clients. Having a lead artist as invested in a client's journey as Quinton is, is what brings customers in, followed by their friends and family. Understanding the experience from both perspectives has given Quinton the edge. Perfection is not a goal, it is mandatory.
"This treatment is truly life changing. It's the best thing I have done since giving up on all the products I have tried. All of which failed to make any notable difference. It's an honour and privilege to deliver the same life changing experience to our clients"
Head technician at Skulltec Exeter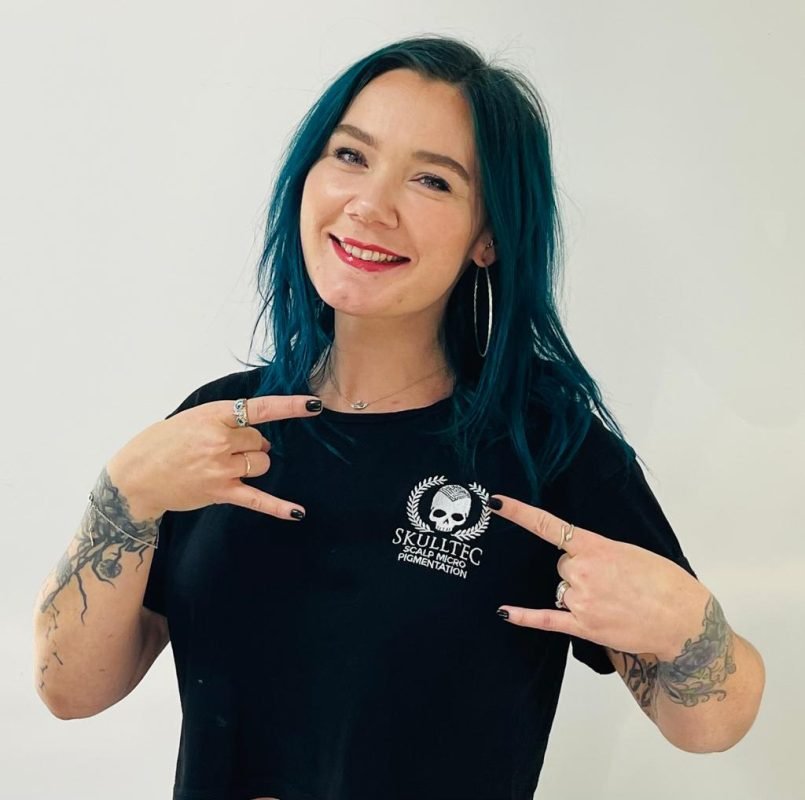 Meet Courteney McAra-Burton.
---
After a successful career in the 5* hospitality sector, Courteney's attention to detail and customer service skills are second to none. Joining the team as Barry's sister-in-law makes Skulltec truly a family business, where all clients are treated like the newest family member.
Seeing how profoundly affected by hair loss her family has been, Courteney is a strong advocate of the transformative effects of SMP, and feels truly privileged to help her clients recognise their own reflections once more.
Having completed her training in-house at Skulltec, her qualifications are CPD accredited to a level 4 NVQ standard. With Laser Tattoo Removal qualifications from the British Institute of Lasers she is rapidly running out of space on her wall to display her many accolades.
Working alongside Barry in Skulltec North, Courteney is committed to her craft, striving for perfection with her obsessive eye for detail. She has exploded into the field with a meteoric impact complementing the already strong team with a new perspective.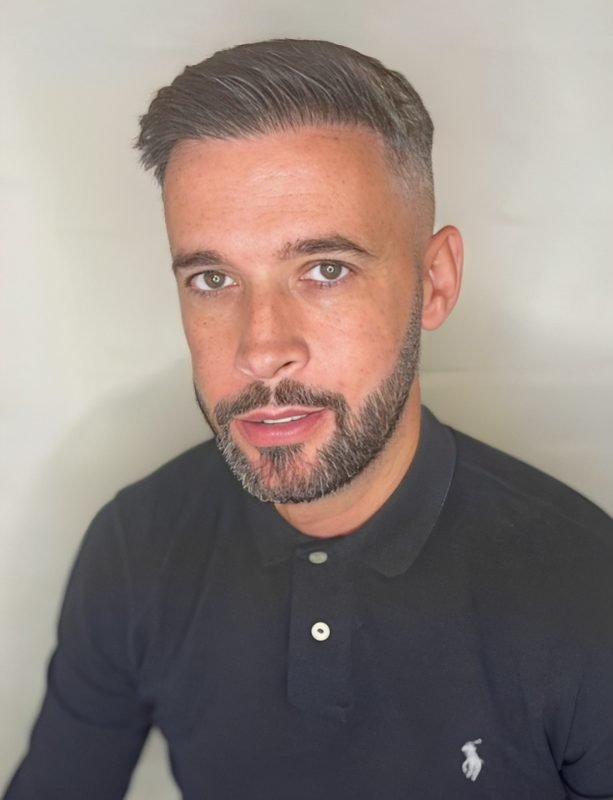 Meet Sean
---
Sean had spent most of his working life in powder coating which he excelled in working on big projects including the Shard, the Olympic stadium and the new Tottenham stadium to name a few.
However the job involved working long hours and weekends and didn't leave much time for a home life.
When his first son was born he started to look at other potential careers with more flexible working hours in view of being able to spend more time with his family.
Seans partner is a permanent makeup artist and told him about scalp micropigmentation, he had never heard of it before and started to do some research on it. Instantly he became a bit obsessed on the amazing results that can be achieved and knew that this was the path he wanted to go down.
After doing a lot of research their were 2 scalp micropigmentation artists in the uk whose work really stood out to him in terms of looking natural and giving great healed results so he decided to reach out to them and has since been on training courses with both artists. He learnt a lot from these guys from technique to sourcing all the best equipment, products and pigments to ensure the best possible results for his clients.
Sean now has over 3 years experience in scalp micropigmentation and has a real passion for helping his clients with their hair loss issues.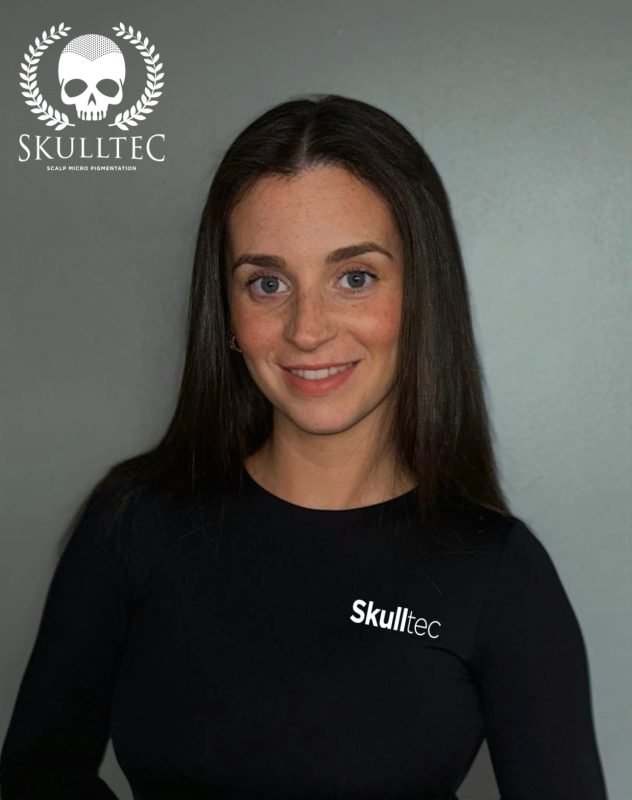 Meet Lynsey Stewart
---
Lynsey's profound passion for Lynsey's profound passion for the arts has been a constant driving force throughout her life. During her time at art school, her focus gravitated towards illustration, with a deep-rooted aspiration to pursue a career as a tattoo artist. In her artistic sanctuary, a sheet of paper and a delicate fineliner were all she needed to find solace.
However, fate guided Lynsey onto an alternative path when she witnessed her father's remarkable transformation in confidence and mentality after undergoing a transformative procedure by Skulltec.
This reignited the fiery passion within Lynsey, as she realised the profound impact she could have on others through the artistry of tattooing.
Motivated by this newfound inspiration, Lynsey embarked on a training program under the guidance of renowned expert Barry Tunstead himself. Now, equipped with invaluable expertise, she proudly establishes her own extension of the Skulltec family with the opening of Skulltec Micro Pigmentation Edinburgh Ltd.
The art of Scalp Mirco Pigmentation (SMP) is an intricate craft that transcends standardised procedures, as each client's unique requirements demand a tailored approach Lynsey embraces the individuality of each treatment and client, harnessing her discerning eye to create a natural, perfectly-imperfect hairline and shaven appearance that Skulltec so proudly exemplifies.