Show Off Your Full Hairline With Our Hair Loss Tattoo Procedure!
HAIRLINE RESTORATION IN SCOTLAND
MENOPAUSAL HAIR LOSS SOLUTION IN SCOTLAND
MENOPAUSAL HAIR LOSS SOLUTION IN SCOTLAND
If you're looking for a permanent solution to hair loss, a hair loss tattoo may answer your prayers. If you keep wondering about the side effects and pain of this procedure, we have come to help debunk everything for you!
Let's Talk About What A Hair Loss Tattoo Is
A hair loss tattoo, often called scalp micropigmentation (SMP), is a cutting-edge cosmetic procedure designed to address hair loss and thinning. Unlike traditional tattoos, which use ink to create designs on the skin, a hair loss tattoo involves applying micro-sized pigment dots on the scalp.
These dots mimic the appearance of hair follicles, creating the illusion of a closely shaved head or increased hair density. This innovative technique offers a non-invasive solution for people like you seeking to enhance their hairline, camouflage bald spots, or achieve a fuller look.
Hair tattoos can be tailored to your natural hair colour and style for a seamless, natural-looking result. Using specialised tools and techniques, skilled professionals carry out the procedure.
SMP provides immediate results, helping individuals regain confidence and a youthful appearance. As demand grows, getting a hair loss tattoo has become a transformative solution for a visibly declined hairline, making it a preferred choice for individuals seeking a realistic and long-lasting solution to hair restoration.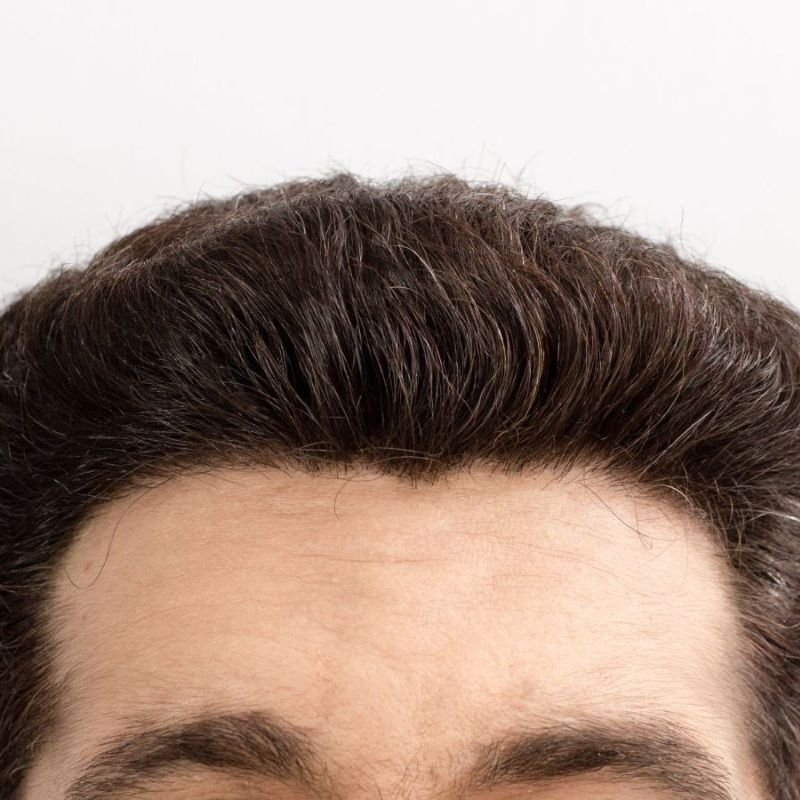 How Do We Perform The Procedure?
Treatments at Skulltec are usually delivered over three separate sessions, though the actual time may vary based on hair loss severity, style requirements, and other factors.
Microneedles layer pigment dots on your scalp in a process that resembles getting a tattoo. These needles are similar to the ones used for traditional tattoos but smaller and finer. The tiny "dots" of pigment, placed in the dermal layer of skin, give the appearance of a buzz-cut.
At your first SMP consultation, one of our team members will discuss your needs, including your hairline shape, its positioning, and the density and shade of your pigmentation. A small incision is made in the skin with each dot application. Following this, a scab forms over the incision and naturally sheds, carrying some of the implanted pigment. So, you need a few more appointments to get a darker hair colour done.
Is Getting A Hair Loss Tattoo Painful?
Scalp micropigmentation (SMP) services are less uncomfortable than traditional tattooing due to the finer, smaller needles used. You might feel light discomfort when the treatment begins, which subsides quickly.
Although SMP doesn't reach deep into the skin, it does breach the surface barrier, where pain receptors reside. This means you'll encounter a certain level of sensation, but rest assured, the discomfort is manageable and fleeting..
However, SMP should be avoided during a flare-up or breakout if you are prone to scalp acne or psoriasis.
How To Manage Pain During The Procedure?
To manage pain during the procedure, follow the steps discussed below.
Make sure you talk with us before starting the procedure about the possibility of using a numbing cream. We can recommend the best brand and product if you need it.
Before you visit us, you may take a pain reliever. Avoid taking aspirin at all costs because it is an anticoagulant. If you are on any blood thinner, please consult your doctor before getting a hair loss tattoo.
Always make sure you're at ease at our clinic. You are welcome to bring your AirPods and a fun playlist to listen to during the process. This will help you be distracted from the pain. Relax and trust us.
How Permanent Is A Hair Loss Tattoo?
SMP, or a hair loss tattoo, is considered semi-permanent, which means it will last for years with some regular maintenance. However, with regular natural skin exfoliation, the effect, which could last up to 8 years, will eventually vanish.
The colour will deteriorate over time if you do not care for your skin. Exfoliation will be more intense, and the effects will wear off quickly with dry skin. If your skin is not dry, it will last longer.
Skulltec - Your Go-To Solution For Hair Loss Problems
We at Skulltec have what it takes to fulfil all your hair goals. Our expert team of professional SMP technicians can work with any hair loss situation and develop the best permanent solution for you. So, go ahead and try us with your creative hair tattoo ideas!
Costs generally range from £350 to £1,500. Contact us to learn more about a
hair loss tattoo
and how it can change your life on our
website
.
You can email us at info@skulltec.co.uk, or if you prefer to speak with someone directly, you can call us at 07388 017 121. We are eager to hear from you!